Calendar, News, Links & Resources
Animal Chiropractic House Call Calendar
Contact Dr. Johnson to schedule a house call for your dog, cat or other small animal.
In The News
The Oregonian, May 5, 2009 "(Dr. Johnson) sees "a lot of pretty old and pretty sore dogs," she says, and a lot of competition dogs with challenging physical routines. "People are absolutely amazed how old dogs, after years of feeling achy, are getting up and down after just a couple of treatments."
Links & Resources
American Veterinary Chiropractic Association (AVCA)
Animal Chiropractic Referral Form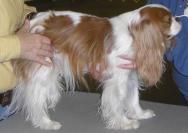 Dr. Johnson gives an animal chiropractic adjustment to Jewel a Cavalier King Charles Spaniel.